Think Indigenous is a conference intended to bring together educators doing amazing things in our community.  Inspired by media outlets such as RedManLaughing and Ted Talks, Think Indigenous promises to provide a unique and inspiring Education Conference experience.  This year we are proud to provide the following Educational Difference Makers to the TIEC 2017 stage. More speakers will be added to the list when confirmed.
Host - Ryan McMahon
Ryan McMahon
is one of the most dynamic Aboriginal/Native American Comedians working in Canada and the United States today. Hes also a graduate of the prestigious Second City Conservatory (Toronto). His show is a loose, fast paced, silly but always honest look at society from the perspective of a Native dude. Ryan's comedy is irreverent and boundry pushing as he focuses his attention on the good, the bad & the ugly of the collision between Indian Country and the mainstream.
Keynote & TIEC Talk Speakers
Leroy Little Bear
Leroy Little Bear has himself become an institution. This veteran educator and renowned academic is a model for all Aboriginals striving for success in higher learning. The founder of the Native American Studies Department at the University of Lethbridge – where he served as Chair for 21 years – also went on to become the founding Director of Harvard University's Native American Program. He's co-authored three texts – Pathways to Self-Determination: Native Indian Leaders Perspectives on Self-Government, Quest for Justice: Aboriginal Rights in Canada, and, Governments in Conflict: Provinces and Indian Nations in Canada – and helped write Justice on Trial, the report of Alberta's Task Force on the Criminal Justice System and Its Impacts on the Indian and Métis Peoples of Alberta. A member of the Blackfoot Confederacy, Little Bear contributed to publications for the Royal Commission on Aboriginal Peoples in the area of criminal justice issues, did the same for the Assembly of First Nations on constitutional issues and has provided legal advice to numerous Aboriginal organizations on land claims, treaties and hunting and fishing rights. He is now recognized as one of the continent's leaders in the advancement and acceptance of North American Indian philosophy. When he began his studies in the 1960s he quickly determined he wasn't attending university for himself. Instead, Leroy Little Bear did it for his people. "Educating Native students was my way of making a difference," he says. "If I can graduate ten or fifty Native students then that makes a big difference." He has already succeeded.
Shelley C. Lowe
Shelly C. Lowe is an enrolled member of the Navajo Nation. She is Bilagaana, born for Náneesht'ézhí Tách'iinii. Her paternal grandfather's clan is Tábaahí. Ms. Lowe grew up on the Navajo Reservation in Ganado, Arizona. She is currently the Executive Director of the Harvard University Native American Program and was previously the Assistant Dean for Native American Affairs in the Yale College Deans Office and Director of the Native American Cultural Center at Yale University. Prior to her position at Yale, she spent six years as the Graduate Education Program Facilitator for the American Indian Studies Programs at The University of Arizona. During her time at The University of Arizona she was actively involved in the Native American Student Affairs Office and the American Indian Alumni club. She has served on the board of the National Indian Education Association and as a Board of Trustee for the National Museum of the American Indian. She currently serves on the board of the Beantown Cats Alumni Chapter. Ms. Lowe has presented and published in the field of American Indian higher education and is completing her doctorate in Higher Education with a focus on American Indian student success and services. 
Edna Manitowabi
Edna is Odawa/Ojibway from Wikwemikong, Manitoulin Island; head woman for the Eastern Doorway of the Three Fires Midewewin Lodge. She is well-known nationally as a Traditional teacher, ceremonialist, drum keeper and grandmother. She has been instrumental in the re-introduction of Traditional teachings and ceremonies in the local area, and is an active researcher of Traditional medicines. Edna is the founder of the annual Aboriginal women's symposium at Trent. It was through her vision that Indigenous Studies and Trent started Nozhem Theatre, our Indigenous performance space that is developing an international reputation in Indigenous theatre and dance performance.
Sol Sanderson
In 1972, under the leadership of Sol Sanderson, the Federation of Sovereign Indian Nations (FSIN) took on a policy of First Nations control over First Nations education. Sanderson's work helped create ground-breaking institutions including the First Nations University of Canada, the Saskatchewan Indian Institute of Technologies and the Saskatchewan Indian Cultural Centre. At the time, it was a vision that conflicted with that of the federal government's Indian Affairs (now called Aboriginal Affairs and Northern Development Canada).
Sanderson was FSIN chief from 1979 to 1986. For more than 50 years, he has worked to assert political rights for First Nations people. In 1982, he played a key role in having them included in the Canadian Constitution, also helping ensure treaties were entrenched in it and recognized internationally.
Sanderson — a member of the Chakastaypasin Cree First Nation — was also a founding leader of the Assembly of First Nations and active in the Treaty Land Entitlement process in the province.
He also claims to have coined the term First Nations, to replace the word Indian and establish the group as a founding nation of Canada, in the 1980s. Government of Canada archives say the term came into use in the 1970s.
Lillian Crier
Pisim ohyapi onimihto nisikason. Kinokamasihk ochi niya. Iyiniw pimatisowin kiskeyihtamowin nipimsahen. Nanaskomon anoch oma kisikaw, kakameymostotaman. My spirit name is Rainbow Dancer. My English name is Lillian Crier. I am also known as Lillian Gadwa from Kehewin, Alberta. I am a conduit of our grandmothers' teachings. I firmly believe and follow the Cree way of life and the life teachings. I am very grateful for this life, today and every day because we have been given kinehiyawinaw to follow. 
I have been an Indigenous Educator for over 30 years. I am a strong advocate for Indigenous Education and development. It is believed and I have heard kitehayak say, teach what you know, show what you know and follow what you know. I am proud to be a nehiyaw iskwew and will continue to promote our Cree ways.
Cort Dogniez
Cort Dogniez is a proud Métis man born and raised in Saskatoon. He is a graduate of the Indian Teacher Education Program and possesses a Bachelor of Education and Post Graduate Diploma in Indigenous Studies. He is a retired teacher currently in the position of the Métis Education Program Leader based at St. Michael Community School but available to all Greater Saskatoon Catholic Schools. His role supports teachers as they connect the curriculum to Métis history and culture while engaging the Métis community in meaningful ways. The development of a Métis Education Model has provided direction for the deliberate inclusion of Métis perspectives through monthly themes. This is Cort's ideal post retirement job.
Kanen'tó:kon Hemlock, Mohawk Nation, Kahnawà:ke, Bear Clan.
Traditional Bear Clan chief for the community of Kahnawà:ke. Current language, culture and history teacher at the Kahnawà:ke Survival School. Member of the Great Law Recital Committee. Member of the Haudensaunee External Relations Committee. Tasked to help carry out Decolonization workshops throughout the Haudenosaunee Confederacy. 
Karla Jessen Williamson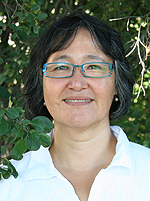 Karla Jessen Williamson, PhD (University of Aberdeen) is born a 'kalaaleq' - an Inuk from Greenland. She received her primary education in Greenland, and attained her high school education in Denmark. Since moving to Canada, Karla undertook Bachelor's and Master's Degrees in her third language (English) through the University of Saskatchewan. Her Master's thesis dealt with Inuit child-rearing practices as these relate to Inuit relationship to the land in Pangnirtung, Nunavut. Her Doctoral studies at University of Aberdeen in Scotland involved studying gender relations in post-colonial Greenland Inuit communities from an emic point-of-view, offering insight on social construction of gender relations.
Dr. Jessen Williamson was appointed Executive Director of the Arctic Institute of North America at the University of Calgary, the first female Executive Director since its inception in 1945. Karla taught at the University of Saskatchewan for 16 years on matters dealing with Canada's multiculturalism, antiracism and Aboriginal epistemologies as these relate to education.
Harry Lafond
Harry J. Lafond is the Executive Director of the Office of the Treaty Commissioner. He has a wide range of experience in the community, in politics and in academics, which he brings to the OTC. He has been Chairperson for the Board of Trustees First Nations since 2003. Previously, he served his Nation as Chief (1990-2000). Harry has worked extensively in the area of education as the Director of Education and earlier as Principal of Kihiw Waciston School at Muskeg Lake.
Harry's academic education includes: B.A.; B. Ed, and an M.Ed. He was appointed to serve on the Senate of the University of Saskatchewan (1995-2002) and was also appointed to the national Federal Task Force on Education (2003). Family is a priority and Harry spends many hours with his children and grandchildren teaching them about being Cree.
Corey O'Soup
Corey has had an extensive career working on behalf of children and youth in his roles as an educator, Senior Policy Analyst for the FSIN, Provincial Superintendent for the Ministry of Education, Senior Manager for the Alberta Ministry of Education, Executive Director for Education/Post-Secondary Education and Training for the FSIN and as the First Nations and Métis Advisor for the Ministry of Education. In the role of First Nations and Métis Advisor, Corey took the lead on the government's response to the fatal shooting at a school in La Loche in January 2016.
As the Advocate for Children and Youth, Corey's priorities will be to find ways to reduce the number of First Nations and Métis children and youth in care and to improve mental health services in Saskatchewan, especially in the north where he has promised a special report on the issues surrounding youth suicides. Corey was born and raised in Saskatchewan, and is a member of the Key First Nation. Corey and his wife, Jacinda, have five children.
Chante Spiedel
2017/2018 Manito Ahbee Youth Ambassador 
Chante Mikwan Caroline Speidel from the Saptoweyak Cree Nation/Standing 
Rock Sioux Tribe
The title of Miss Manito Ahbee honours the memory of the Missing and 
Murdered Indigenous Women & Girls. Every four years the family of an 
Indigenous woman who was taken much too soon is honoured by the Manito 
Ahbee Festival. The first four years were dedicated to Felicia 
Solomon-Osborne, then honoured Cherisse Houle, and now Lorna Blacksmith.
The Manito Ahbee Festival is honoured to have selected Chante Speidel as 
the 2017 Miss Manito Ahbee Youth Ambassador. Chante Speidel, Lakota name 
is Red Road of Life Woman. She is a proud Cree and Lakota woman, and has 
spent my whole life learning the rich culture, customs and traditions of 
her heritage.
Welcome to the Think Indigenous conference
In Youthful Spirits, 
Chante
Kinanâskomitin, philámayaye
https://www.manitoahbee.com/about-us/miss-manito-ahbee/about
Tamara Starblanket
Tamara Starblanket is Spider Woman, a Nehiyaw from Ahtahkakoop First Nation in Treaty Six Territory. Tamara holds an LLM from the University of Saskatchewan, and an LLB from the University of British Columbia. She teaches and coordinates the Aboriginal Justice Studies Program at the Native Education College. She was recently elected Co-Chair of the North American Indigenous Peoples' Caucus (NAIPC). She is a former Director of Policing and Research and Development at the Federation of Saskatchewan Indian Nations.
More speakers will be updated when confirmed.
Mylan Tootoosis
Mylan Tootoosis is Plains Cree-Nakota from Poundmaker Indian Reserve in Treaty Six Territory. He is a Tribal College Alumni and earned his Bachelors of Arts in Indigenous Liberal Studies from the Institute of American Indian Arts in Santa Fe, New Mexico. He completed his Masters of Arts in Indigenous Governance at the University of Victoria and is currently a Doctoral student in the Department of Indigenous Studies at the University of Saskatchewan, his research concentrates on decolonization and The Political Ecology of Contemporary Indigenous Prairie Livelihood in Treaty Six Territory. He has gained insight and experience in various forms of land based education programs in Costa Rica, Hawai'i, Belize, and Chiapas, Mexico. He currently lectures and teaches at the University of Saskatchewan as a Graduate Student.

Mylan is also a certified Life Skills Coach and Creative Life Coach. He began to travel with his late father, Arsene Tootoosis at the young age of 7 and has spent much of his youth working along side his parents who are the founders of Red Echo Associates (1993). He currently develops and delivers Life Skills programs and workshops for Indigenous youth and communities as a way to fund his way through his PhD program.
TIEC 2018 Youth Ambassadors